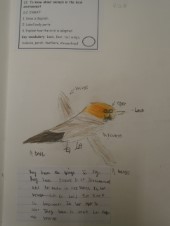 Maths
In Maths, we have been learning about measurement. We focused on measuring length to the nearest cm and mm as well as measuring the perimeter of 2D shapes and irregular shapes. We really enjoyed estimating measurements and and comparing it to the accurate measurements!
Literacy
In Literacy, we started learning about letters and explored the different features of letters. Using our core text 'George's Marvellous Medicine', we had a go at writing a letter to one of the characters. It was so much fun!
IPC
In IPC, we have been learning all about animals and their habitats. We particularly explored the features of a robin and researched how different features can help the robin adapt to the environment.
We hope that everyone has a great holiday and we look forward to seeing you in 2019